Unfortunately, even the laundry and linen industry can't escape the impacts of inflation! Not to mention, with costs for laundry operators on the rise, as Yamamoto NA has previously discussed, managing money and budgets for your commercial facility has become significantly more complicated. Thankfully, Yamamoto NA is here to help. At Yamamoto, we intimately understand the problems you face when managing in-house laundry operations. Not only do our machines provide convenience and longevity, but they're also great for businesses looking to make linen cleaning more affordable. That's the power of a Yamamoto washer!
Save On Utility Costs
As part of Yamamoto's commitment to sustainable development, we design our equipment to maximize its potential while consuming minimal water and energy. Not only do the water and electricity savings afforded by Yamamoto machines positively impact the environment, but they also affect your wallet! Because utility costs have grown as of late, having equipment that minimizes utility usage proves incredibly beneficial for your business's bottom line.
Save On Equipment Care Costs
With daily use and for constantly running machines, maintenance might be required for your equipment now and again. However, the older your machine gets, the more likely it will break down. And when your machines continually break or malfunction, it doesn't just cost money to repair; equipment downtime can cost you productivity.
Needless to say, laundry operators don't want to be footing the bill for equipment repair all the time. That's why many operators rely on Yamamoto machinery. Nearly 95% of the manufacturing required to develop Yamamoto equipment is handled in-house from raw materials. This allows us to source the highest quality components, promising your equipment will outperform and outlast the latest washers from our competitors. Best of all, no matter how old, if your Yamamoto machine requires repair for any reason, we will always carry the replacement parts for affordable prices.
Save On Labor Costs
There are more and more the latest industrial washing machines can do. New equipment from Yamamoto can practically run itself! For this reason, business owners and facility managers have begun investing in Yamamoto equipment to resolve labor costs (or shortages).
In truth, businesses have problems finding labor to operate equipment or can't afford the required labor. Yamamoto's washers resolve both concerns. With hundreds of automatic washer cycles and programs, all included as part of our washers' digital controls, you don't need multiple "overqualified" operators to manage your equipment. As a result, Yamamoto washers can help you save tons on labor.
Save On Equipment Upgrades
As mentioned, older equipment can cost your company more to maintain. Investing in new equipment might be your more affordable option between excess utility usage and continual breakdowns. However, finding new equipment that meets your facility's linen cleaning needs while not breaking the bank can sometimes prove challenging. That's why Yamamoto offers the most affordable equipment in the industry!
We understand how troublesome upgrading from old equipment can be for a business's bottom line. So, to help laundry operators, we price our industrial machinery lower than our competitors offer. And with this lower price, you still receive a washer with premium features, high-quality components, and the best cleaning capabilities.
Save On Outsourced Laundry Operations
You might want to reconsider if you think you're already doing your part to save on laundry operation costs by outsourcing your linen cleaning. While having another laundry facility manage your linen can be convenient and save you money in the short term, it cannot match the savings of in-house linen cleaning. The extra money you pay upfront for acquiring industrial equipment is well worth the cost, as you'll no longer have to rely on outside parties for clean towels, clothes and more. And while costs for linen cleaning services can sometimes be unpredictable, you always know what you're paying for with on-site equipment.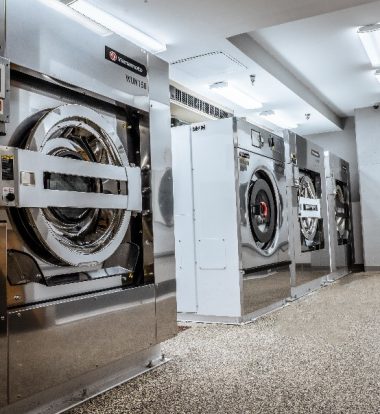 Talk to Yamamoto NA
Although costs for linen cleaning and business operations are continually rising, an investment in Yamamoto washers might be what your facility needs to manage laundry cleaning more affordably. To see the incredible power, durability, and cleaning capabilities of Yamamoto's industrial extractors, call the Yamamoto NA team today! Contact us at 309-827-4303 to begin saving more with Yamamoto!