As the end of 2023 is fast approaching, it's important to reflect on the popular trends that took center stage for the laundry industry over the past several months. Most industry experts agree that linen cleaning advancements have been about sustainability, automation, and operation this last year. Having direct insight into the ongoing trends as part of our industry, Yamamoto has made great efforts to stay ahead of what's popular! As such, Yamamoto's washer designs look to meet and exceed the current demands of laundry operators worldwide.
Sustainability
Not only does a focus on sustainability in linen cleaning help protect the environment, but it also helps laundry operators save on their bottom line. As utility costs continue to rise, companies require laundry equipment that doesn't waste electricity and water. Also, industries like manufacturing and healthcare are taking active steps to reduce their carbon footprint. High-efficiency washers are a crucial aspect of this process.
In previous blogs, Yamamoto discussed our efforts to create more environmentally friendly machinery. Yamamoto follows the Sustainable Development Goals (SDGs), 17 integrated goals adopted by the United Nations in 2015. Between our production methods and the parts/materials we use, we strive to design equipment that promotes good health and well-being, promises clean water and sanitization, and enables responsible consumption and production.
In alignment with the SDGs, Yamamoto produces our high-speed washer-extractors using materials, chemicals and equipment not harmful to the environment (such as toxic-free paint and natural detergents). Furthermore, our washers can be precisely controlled to ensure maximum efficiency with minimal water and electric usage. Best of all, we provide replacement parts for machines a decade or more old, promising support for your machinery to reduce product waste.
Automation
A combination of labor shortages and increased demand for laundry services have led many laundry facility managers to push for greater automation in linen cleaning. As such, laundry equipment manufacturers have begun to answer the call! New machinery is being produced that streamlines aspects of linen cleaning, reducing the need for additional manual labor. Even Yamamoto has gotten into the automation game with our new towel folders.
The FUT10BT is Yamamoto's latest equipment offering: a multi-use folder that automatically classifies, folds, and stacks various towel sizes. Using the FUT10BT, operators can load the linen they wish to fold, apply settings for the type of fold desired, and let the machine get to work. Per American Laundry News, the average person can fold, sort, and stack different-sized towels at a rate of 120 pieces per hour. With Yamamoto's towel folder, that rate is increased to 650!
Operation
Whether for laundromats, apartments or student housing, facility managers require laundry equipment that anyone can operate. Furthermore, these same laundry operators require equipment with additional payment and self-service options. More and more, laundry equipment manufacturers are equipping their machinery with coin/card-operated features, enabling machine owners to control usage while making extra money. Now, advancements in tech are making self-service washers easier to use than ever before.
Admittedly, coin-operated laundry equipment has never been Yamamoto's primary focus. However, with self-service equipment in such high demand, we felt it was time to produce coin/card-operated machinery of our own! While not yet available to consumers, Yamamoto soon plans to reveal a line of exceptional washer extractors fit with your choice of payment solution. You can either go "old-school," allowing operators to run their machines with a few quarters, or enable payments via cards or other digital means.
Additionally, Yamamoto's current washer models all feature advanced digital technology, able to streamline parts of the linen cleaning process. Our equipment is easy to operate and comes with hundreds of automated cleaning programs, perfect for optimizing your facility's cleanliness. For years, Yamamoto has stayed ahead of the market, being one of the first manufacturers to give laundry operators complete control of their washers.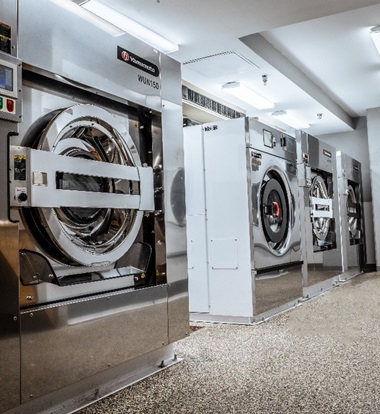 Pushing Innovation Forward with Yamamoto
In addition to sustainability, automation and operation, Yamamoto continues to make strides in other aspects of washer tech. For example, our machines include features that maximize their cleaning potential, continually meeting the high cleaning standards set by industries like hospitality or healthcare.
As technology evolves, we also look to incorporate new cleaning features into our laundry equipment. UV-C light technology is one such emerging tech that is beginning to see usage in laundry operations, providing an additional layer of sanitization for dirty linen. While Yamamoto hasn't yet included UV sanitization as one of our washer features, nothing is off the table when developing our new washer designs.
If you wish to stay ahead of laundry technology trends with equipment that exceeds expectations, investing in Yamamoto washers is worth your while. Learn more about our industrial washing machines and commercial laundry equipment by calling 866-877-0114. Our main office is located at 507 W Olive St, Bloomington, IL 61701.