Yamamoto NA's Trip to Japan!
2023 has presented the Yamamoto North America team with some exciting new opportunities. Not only are we building new partnerships and relationships throughout the linen cleaning industry, but we're getting ready to begin offering some incredible new products. And to add to much of the excitement surrounding Yamamoto this year, our North American-based teams were invited by Yamamoto Manufacturing to see our company's headquarters and experience some of the incredible sights, sounds and tastes of Japan.
Thanks to Our Top Distributors!
Yamamoto NA hosted different teams of distributors throughout the trip as thanks for the hard work of each. Distributors earned their tickets by being top earners, having the best sales performance for 2021. Of those present, we had representatives from Spin Techs of South Bend, 24/7 Laundry of Indianapolis, Consolidated Laundry of Raliegh, ECW Inc. of Los Angeles, National Laundry of Nashville, Hermes Equipment of Bloomington and SaveMore Equipment of Gadsden. Needless to say, we had a diverse group of team members for our trip!
Touring Yamamoto's Facilities and History
Our trip took place during the first week of April, from the 1st to the 7th, during Japan's famous Cherry Blossom Season! The visit included two nights in Tokyo, a night in Onomichi, and two nights in Hiroshima city. On arriving in Japan, we were greeted by the friendly folks at Yamamoto Manufacturing and given a proper tour of the area and some of Yamamoto's facilities.
During our factory/property tours, we saw the newly renovated conference center in Yamamoto's main office. The conference center featured a moveable wall that had been graphically designed to show the history and philosophy of Yamamoto Manufacturing through the years. It chronologically depicted the growth and changes in equipment lines of Yamamoto, as well as company culture since Yamamoto's founding.
After seeing the new conference center, we were given a guided tour of each part of the factory. We were also shown additional facilities recently built to support the increase of production coming from growth in the American market. The consensus among our distributors was how impressed they were with the volume of automation and robotics used to create Yamamoto equipment. Through this automation, we recognized Yamamoto's unique ability to control production and quality at a higher rate than traditional skilled laborers.
A Peek at What's to Come
Upon completing the guided tours, our distributors got down to business with Yamamoto's local teams to discuss some future products Yamamoto is close to releasing!
The standout products were Yamamoto's OPL dryers. Each was 55lb and 75lb capacity units that operated using a worm gear rather than a belt and pully system. This allows for a smaller footprint and gives the dryers a competitive advantage in the market. Additionally, the switch to worm gear operation eliminated several parts that are traditionally service-heavy and costly over the machine's lifespan. The dryers were also designed with a unique airflow system to help them achieve higher efficiency than most other brands while maintaining industrial-level performance.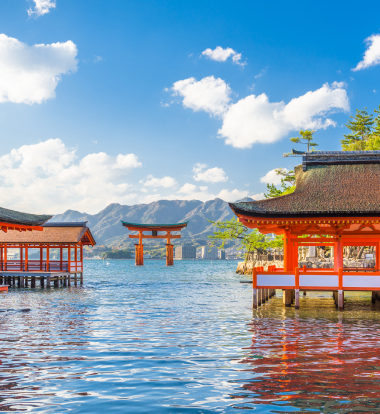 In addition to the OPL dryers, we were shown the Yamamoto RSF Ironer, a re-modeled WUN275 with a smaller footprint, and some of the latest coin-operated laundry units. Excitingly, consumers can expect to see these new products and product redesigns on the market soon!
Enjoying Our Downtime
Of course, our trip to Japan wasn't only "business related." Much of our time was spent enjoying everything Japan had to offer! During our trip, we were shown some incredible sights and famous locales throughout the country, including a visit to the Senkoiji Temple, Usui Shrine, Miyajima, Hiroshima Peace Park, Shinjuku Station, Mr. Yamamoto's home, a ride on Japan's bullet train, and more! And during the evenings, we sampled some of the fine and unique cuisine offered throughout Japan's districts. There was no shortage of delicious foods, incredible sights, and exciting activities to experience in Japan!
Thank You, Yamamoto!
At Yamamoto NA, we couldn't be more thankful for the incredible opportunity Yamamoto Manufacturing offered us. Seeing Yamamoto's facilities first-hand and learning about the vibrant history of our company has given our distributors a new appreciation for the products they help sell. Moreover, our trip to Japan allowed our distributor network to come together to cultivate stronger bonds with the Yamamoto family and brand. Yamamoto NA is excited about everything to come, and we can't wait for our next visit to Japan!