Yamamoto Joins the World of Coin-Operated Laundry Equipment
For decades, industrial businesses and commercial laundry facilities have utilized the power and efficiency of Yamamoto machinery. However, while Yamamoto washers prove effective for industries like healthcare and hospitality, they find less use in facilities like apartment complexes and laundromats due to a lack of coin-operation features. For those of you that visited Yamamoto North America at our booth during the 2022 Clean Show, you know this is all about to change! Yamamoto has begun designing and producing new coin-operated washers/dryer units, soon to be available in the States!
What Makes Our Coin-Operated Machines Unique?
In everything Yamamoto creates, we continually strive to push the linen cleaning and laundry equipment manufacturing industries to new heights! And for our coin-operated washers/dryers, Yamamoto's goal is no different.
Our coin-operated equipment features unique functions like automatic soap injection, wash and dry combination units, and full or ½ sized load options. While these features will be standard for our coin-operated machines, they aren't what you usually find with American-manufactured laundry equipment. We hope to attract an entirely new market of interested clients wishing to invest in or update their coin-operated machines to Yamamoto's more efficient, convenient and versatile washers/dryers.
What YOU Had to Say
Our intention in showcasing our coin-operated equipment at the 2022 Clean Show for the first time was two parts: the first to preview the exciting new equipment Yamamoto has on the horizon, and the second to learn folks' initial thoughts on our first entry into the coin-operated laundry space. And we have to say, your observations on our coin-operated equipment did not disappoint! With the insights gleaned at the 2022 Clean Show, we can directly respond to the most common feedback we received.
Some of our biggest concerns in introducing our line of coin-operated equipment were how it functioned so differently from our competitors' machines. But we quickly found the features unique to our coin-operated equipment were what visitors at our booth flocked to investigate.
For example, some visitors viewed our machine's automatic soap injection as an opportunity to sell detergent built into the wash programs to every customer that uses the machine. Rather than giving machine operators the option to use outside detergents or buy small quantities from a nearby vend station, showgoers saw an opportunity to market the laundries as "eco-friendly" or "organic" by controlling the type of "green" detergents being used in the washers.
Initially, we were also concerned with operator errors involving loading (or overloading) machines. For our machine's drum to wash and dry linen effectively, load sizes must not exceed a specific size. Suppose our combo washer/dryer's standard user isn't familiar with the proper load sizes for our equipment. In that case, it could cause customers to be unhappy and negatively impact the image of investors and the quality of our equipment. However, this concern wasn't something our booth visitors were worried over, saying an attended laundromat could easily manage Yamamoto machines and ensure customers don't overload them.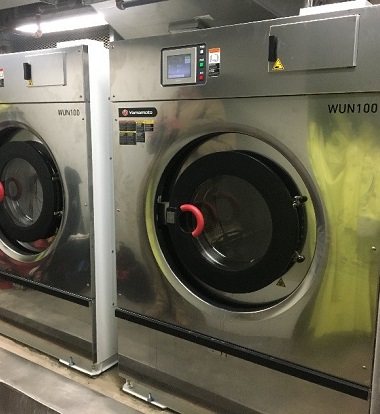 When Can You Expect Yamamoto's Coin-Operated Equipment?
The Clean Show 2022 was Yamamoto's first time introducing our coin-operated equipment to the American market. And thanks to the countless laundry operators, business owners, and equipment manufacturers that visited our booth, we learned what we were doing right and what still needed improvement. All this to say, while you can expect Yamamoto's coin-operated washers/dryers in the near future, we can't tell you a date just yet! However, we promise it won't be long before you can begin equipping your apartment complex or laundromat with the linen cleaning industry's fastest, most efficient and most affordable washing machines. Within the next 12-18 months, be on the lookout for our coin-operated machines and more exciting additions to Yamamoto North America's laundry equipment line-up.
Learn more about the latest Yamamoto North America has to offer by calling today at 309-204-0519. Our main office is located at 507 W Olive St, Bloomington, IL 61701.