The True Cost of Ownership for Industrial Laundry Equipment
If your business is currently weighing the cost-saving benefits of owning industrial laundry equipment or outsourcing laundry services, allow Yamamoto North America to share some insight. While it's true that purchasing a commercial washing machine(s) can be a significant investment, it's a decision that could save you thousands of dollars in the long term. In today's article, Yamamoto NA will go over some of the additional costs associated with owning laundry equipment, how those costs can be lowered, and how Yamamoto machines can save you more.
What You Pay For
Even after purchasing a piece of laundry equipment, there are additional costs for operating and maintaining your machinery. If looking to purchase commercial laundry equipment for your facility, here are some of the costs you should be aware of:
Labor – For small businesses, labor costs might not be a major concern, especially if you operate the equipment yourself. However, employees must be paid to operate commercial washers for larger businesses with more laundry machines.
Utilities – You must factor your commercial washer usage into utility bill costs. Your washer is likely to draw enough electricity, gas and water to impact your utility bill. Now, if you consider multiple machines for your laundry cleaning needs, the cost for utilities goes up further.
Quality – In most cases, the more expensive a piece of machinery, the higher the quality of your equipment. And for most industrial washing machines, this tends to be true. However, with lower quality equipment, you risk the potential for more repair and maintenance fees.
Warranties – Ideally, you'll have a warranty to fall back on if your machine breaks down within a few years of use. However, not all warranties are created equal. Some parts warranties are limited, not covering the most crucial components of your machine. Ultimately, the less comprehensive your warranty is, the more likely you'll pay for repairs yourself.
How You Can Lower the Cost of Ownership
Labor, utility costs, the quality of components and the extent of your warranty are the major contributing factors to the cost of ownership for an industrial washer. And by purchasing the right washer, you can keep ownership costs low while maximizing your cleaning capabilities.
High-Speed Extractions – The best way to reduce labor costs is by reducing your need for labor. And the only way to do so is by increasing the speed and effectiveness of your laundry machines. More often than not, lower-priced washers will feature lower extraction speeds, which means longer wash cycles. By investing in a higher-quality machine with the ability to perform high-speed extractions, you cut down the time needed to operate.
Water and Energy Conservation – While some commercial washers and dryers can be a drain on your utilities, other machines are designed with energy and water conservation in mind. Again, you might be required to pay more upfront for a machine that uses fewer resources, but you'll keep your utility costs within a reasonable margin. And similar to how high-speed extractions reduce the need for labor, shorter washer cycle times mean less energy and water used.
Less Repair and Maintenance – Once again, cheaper washing equipment can mean higher operation costs. For example, a machine's price can be lower if it uses parts and materials of lesser quality. However, the tradeoff is a higher likelihood that machine breakdowns can occur. If you continually cover the repair costs of your laundry equipment, you'll soon pay more than what a higher-quality machine might have cost.
Better Warranties – Finally, finding a machine with as comprehensive a warranty as possible can save you the pain of repair costs should a breakdown occur. As with any warranty, the longer the period and the more parts it covers, the better off you'll be. However, the chances of finding a decent warranty on cheaper equipment are slim. Manufacturers understand the overall longevity of their machinery. Thus, a cheaper machine will have a less comprehensive warranty, so the manufacturer can avoid paying for your repair.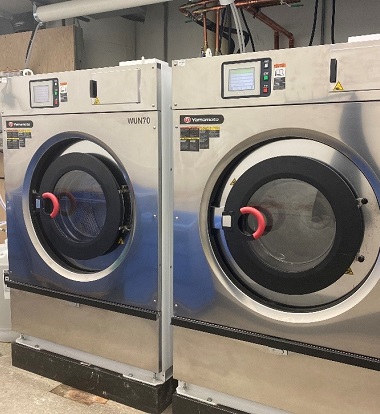 How Yamamoto Sets a Higher Standard
By now, you've likely noticed the correlation between initial equipment costs and the cost of ownership: higher-priced equipment equals lower cost of ownership, and vice versa. This is where Yamamoto machines differ from our competitors. We strive to offer high speed-extractions, energy and water conservation, high-quality parts, and incredible warranties but still keep the price of our washers lower than what's standard. With Yamamoto washers, not only do you pay less for our machinery, but you benefit from overall lower costs of ownership.
If interested in our laundry equipment and how we manage to pass more savings to our clients, contact Yamamoto North America today at 866-204-0519. Also, our corporate office is located at 507 W Olive St, Bloomington, IL 61701.
Don't forget about the Clean Show 2022, coming up at the end of July! We can't wait to show you some exciting new products from Yamamoto.