Supply Chain Concerns for the Laundry Industry: What Can Be Done?
In last month's blog, we covered the ongoing labor shortage in the laundry industry and how employers could begin to take matters into their own hands. However, labor isn't the only concern for the laundry industry. Supply chain issues have become problematic throughout the pandemic, reaching the corners of every industry. As for laundering, textile and hospitality businesses, they've been hit especially hard. While Yamamoto doesn't have the solution to all your supply chain concerns, we can provide helpful advice on best navigating supply issues. First, it helps to understand the source of the problem.
The Source of Supply Chain Troubles
While you can generally blame the pandemic for overall supply chain issues, it gets more specific than that. Moreover, shortages worldwide can be attributed to several factors related to the pandemic. And many of these factors continue to this day, even as we see the light at the end of the "COVID" tunnel.
Lockdowns – At the beginning of the pandemic, lockdowns were put into place across the globe. Much of the laundry, textile and hospitality industries had to shut down overnight. Production was halted for linen products and laundry machines, as factories typically "bustling" had to close in lieu of health concerns. And the hospitality industry was impacted even harder, as travel and tourism all but vanished. Now, as the world starts to come back online, production is still struggling to ramp back up to pre-COVID numbers.
Shipping – A significant amount of laundry and textile products come from overseas. However, due to lockdowns and the like, many of these products were delayed and got stuck in transit. To this day, the world is still attempting to overcome the challenges of restrictive shipping. And with the wait for necessary laundry and textile products becoming impossibly long, businesses are having difficulty meeting the demands of their industry.
Demand – Speaking of product demand, this has partially contributed to the laundry industry's supply chain woes. As a result of the pandemic, demand for laundry products and services drastically dropped. However, at the beginning of 2021, demand spiked throughout the world! The problem is that the laundry industry has been unable to keep up.
Labor Shortages – We already discussed labor shortages in the laundry industry in our previous blog. But, to shortly touch on the matter, every business and industry has been having trouble keeping or attracting new hires. And without trained workers to build our laundry machines, manufacture our linen, or provide service as laundry operators, it's been a challenging time for the laundry industry.
What Can You Do?
Ideally, as lockdowns are lifted, people get back to work, and vaccines/testing are more widely available, the laundry industry will stabilize. As there will always be a need for clean linen, there will always be a need for laundry products and services! However, as we wait for such stabilization, there are a few things you can do as employers to help manage current supply chain shortages:
For Hospitality – As a hotel manager with minimal laundry capabilities, you must reduce your linen requirements. For example, encouraging multi-night stays for guests ensures some linen products can be used for longer before cleaning. Additionally, requiring less linen overall and adjusting your room/bed change policies can help long-term.
For Manufacturing Companies – As much of the supply issues begin at the source, textile companies and laundry machine manufacturers (like Yamamoto) have taken steps to improve the work environment for all our employees. You can see some of these steps for yourself by reading our blog on the subject. Overall, it's a matter of ensuring your company stays compliant with health procedures while incentivizing employees who are afraid to return to work or are thinking about leaving.
For Everyone Else – If there's one major takeaway you should get from this article, it's the understanding that there will be product delays across the board for the foreseeable future. This means you must begin planning what your business needs much earlier than what is usually standard. With delays in shipping, Yamamoto is seeing equipment being manufactured and delivered in as many as six months out from ordering. While businesses adapt to current global events, the laundry industry must do the same!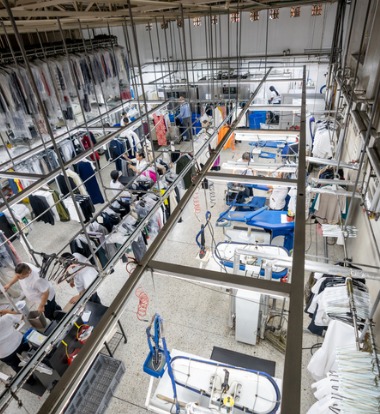 Call Yamamoto Today
If your business might require industrial washing machines in the near future, be sure to talk with Yamamoto North America today. The earlier you can get your orders in, the better! And, for those invested in the laundry and cleaning industries, Yamamoto NA will have a booth at this year's Clean Show 2022, presented by Texcare. Information for the trade show is available here or on their website. Yamamoto NA has a lot of exciting new products to show off, so we can't wait to see you there!
For more info, contact us today at 866-204-0519. Also, our main office is located at 507 W Olive St, Bloomington, IL 61701.